Another NFL season comes to a close a week from Sunday when the Patriots and Falcons will battle in Houston to be crowned champions of Super Bowl LI. By all means, the 51st installment of the NFL season did not disappoint. It was full of show-stopping plays, bone-crushing hits, surprises and a whole lot of this: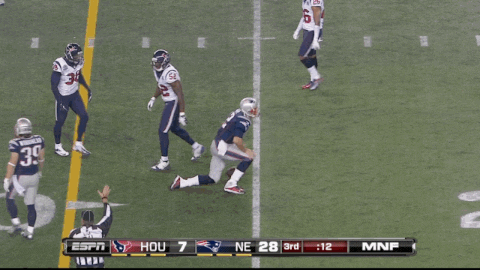 …and this:
…which pretty much sums up how these two teams ended up being the last two to contend for the Lombardi Trophy.
The oddsmakers in Vegas have the Pats by a field goal, but they're expecting a shootout with a Super Bowl record over/under of 57.5. Given how things have gone so far in these playoffs, we pray they're right on the money with those numbers. And that has us as excited for the big game as those two guys are, so here are seven things we took away from Championship Sunday that will be on our minds for the next two weeks.
Matt Ryan deserves the MVP.
You can absolutely make arguments for a handful of other players across the league, including that guy he'll be playing against on Super Bowl Sunday, but you'd be hard-pressed to argue that his performance against the Packers didn't validate all the MVP talk generated throughout his regular season campaign. On top of throwing for a career-high 38 touchdowns this season, Ryan has finally shown that he can do it in the big games too, tacking on seven more TD's in two dominant victories over Seattle and Green Bay.
Matty Ice will surely do his best to produce another phenomenal performance in Houston, but it remains to be seen if he can live up to his nickname; when trailing in the final two minutes this season, the Falcons quarterback has an abysmal 2.2 QBR. He'll probably need to deviate from this year's norm next weekend if he wants to lead Atlanta to its first NFL title. Plus, he's working against history: in his two career matchups with the Patriots, Ryan has lost twice while putting up good, but not spectacular numbers (620 yards, 2TD-1INT, 62.2% Completion).
The Tom Brady Redemption Tour has reached its final destination.
After resentfully serving a four-game suspension to start the 2016 season, (for his perceived role in 'Deflategate') Tom Brady came back with a vengeance. Brady, and Patriots fans across the globe were outraged by the ruling requiring him to sit out the first quarter of the season, but it didn't really seem to matter. Brady came back sharper than ever, throwing for 28 touchdowns compared to a measly two interceptions, and despite a subpar game against the Texans has tallied on another five touchdown throws this postseason.
We're not sure if Roger Goodell really has it out for Tom Brady, or if the NFL just enjoys the media buzz generated by the Brady vs. Goodell storyline. If it's the latter, it certainly played out well this season and Tom Brady appears determined to show the NFL Commissioner that no punishment can stop him from dominating the league. And dominate he has; Brady has now brought the Patriots to seven of their nine Super Bowls, or as Rich Eisen put it:
In two weeks, 14 percent of all Super Bowls will have been started, in part, by Tom Brady.

— Rich Eisen (@richeisen) January 23, 2017
While we're at it, here's another ridiculous statistic that Yahoo Sports NFL Columnist Eric Edholm pointed out on Twitter:
Another insane stat:

Belichick will coach in his 10th SB as head coach/assistant.

Meaning he will have coached in 19.6% of all Super Bowls

— Eric Edholm (@Eric_Edholm) January 23, 2017
Julio Jones is really good.
Matt Ryan accredited a lot of his success over the past several years to Julio Jones, and rightfully so. The sixth-year wide receiver continued his stellar campaign by getting himself into open space all afternoon, making it easy for Ryan to get the ball downfield. Kudos to Falcons' Offensive Coordinator Kyle Shanahan for finding ways to bring out the best in each of these two players this year. Jones reeled in 12 passes for 180 yards and two touchdowns, including a magnificent 73-yard scoring play featuring a great route, his tremendous speed, and a ruthless stiff-arm. Oh, and this was on a bad foot. Best of luck to the Patriots secondary after he has a couple more weeks to let it heal.
We envision it looking something like this:
How to game plan against New England's offense: Don't.
Seriously, we urge Falcons head coach Dan Quinn not to waste his time. We're positive Pittsburgh coach Mike Tomlin spent all week with his defensive staff drawing up ways to contain the likes of Julian Edelman, Martellus Bennett and Lagarrette Blount, but did it really matter? At the end of the day, Tom Brady just found unheralded wideout Chris Hogan nine times for a mere 180 yards and two scores, including this perfectly executed flea-flicker:
Honestly Coach Quinn, after seeing that we can say it just doesn't matter; over the past sixteen years, Brady has shown over and over that he can get it done with whoever gets put around him. The revolving door of Patriots skill players in the Brady/Belichick era keeps on spinning, and Hogan is just the latest to make a name for himself with an outstanding individual performance supplemented by Brady's innate ability to make those around him better.
If the Falcon's defense is to stop Brady and co., they'll need a repeat performance.
It's safe to say very few expected to see a defense stand out in the NFC Championship Game this year, with most expecting a shootout between the league's hottest offensive units. Instead, we saw Atlanta shockingly shutout the Pack in the first half, putting the game out of reach, and as Aaron Rodgers put it, "you're not going to win many games like that." While the second half saw the Falcon's give up a few touchdowns, they consistently put pressure on the Packers quarterback all afternoon and held Green Bay to under 100 yards rushing. They'll need to deliver the same intensity on the pass rush against the Patriots if they are to have any shot at celebrating after the game next Sunday. In fact, this may be their best hope – we've already explained that it's not worth taking weapons away from Brady because he'll always find another way to hurt you. But as teams like the Giants and Broncos have proven throughout Brady's playoff career, he can appear human when he doesn't get time in the pocket.
The Patriots offensive line will probably be up to the task.
This unit, led by Left Tackle Nate Solder, kept their quarterback clean most of the evening, and the Steelers pass rush could muster little to disrupt him.  A consistently strong offensive line has been the key to Brady's successful career, and this season's starting linemen are no slouches. They will do their best to make Atlanta's pass rushers seem as absent as the Steelers' did on Sunday. That would be bad news for the Falcons, because opposing fans tend to cringe in dreadful expectancy of what's to come when they see Tom Brady sit back comfortably in the pocket. For those who don't know how terrifying that is, here's a good example of the typical outcome:
TB12 dances around the pocket and finds @ChrisHogan_15 for the game's first TOUCHDOWN! #PITvsNE #NFLPlayoffs https://t.co/EnO16nfCGO

— NFL Network (@nflnetwork) January 23, 2017
Can the Patriots defense prove themselves?
There's no question (and no surprise) that this is a strong unit under the direction of Defensive Coordinator Matt Patricia and Head Coach Bill Belichick. They held teams to just 15.6 points per game during the regular season, which came in as the lowest figure in the league by over two points. Yet a big storyline heading into Sunday's AFC Championship was the fact that the last eight starting quarterbacks faced by this New England defense were Brock Osweiler, Matt Moore, Jared Goff, Trevor Siemian, Ryan Fitzpatrick (twice), Joe Flacco and Colin Kaepernick. Not exactly a list of players who will one day have busts of themselves in Canton. Big Ben looked to be their first test in weeks, and we can't say they failed, but Le'veon Bell's early injury definitely allowed the Patriots to focus more heavily on Roethlisberger. We're eager to see how they fare against the league's highest scoring offense, which along with a superb Matt Ryan and a healthy Julio Jones comes complete with the dangerous running duo of Devonta Freeman and Tevin Coleman.
There's a lot to think about in anticipation of Super Bowl LI, but all things considered, we give the edge to New England. Tom Brady is on a mission this season, and the Patriots defense is good enough to slow down Matt Ryan and friends just the little bit their offense will need to pull away. That being said, this game still has the potential to be a high-scoring yet tight affair, something we have not seen as much as we would have liked to during the playoffs thus far. In fact, with the exception of the instant classic that was the Packers-Cowboys showdown in the Divisional Round, the majority of games this month have been one-sided affairs. Let's hope for a close game to make up for all the blowouts we've witnessed this January – we think the football gods owe us one.