Memes, GIFs and Vines have become as integral to the Super Bowl as Budweiser commercials and half-dressed pop stars. Luckily, Super Bowl 50 season is just getting underway and we're eagerly waiting to see what the Internet will have in store for us this year. In order to get everyone's creative juices flowing…. 
Here's a list of the Best Super Bowl Vines, Memes and GIFs of all time:
The 6 Best Super Bowl Vines
1. Katy Perry—Are You Ready to Roar?
You probably remember her from her halftime performance of "I Kissed a Girl" with Lenny Kravitz in Super Bowl XLIX, but here's a Vine from her performance of "Roar," when she rocked a wild flaming dress and made a grand entrance on top of a moving gold tiger.
2. Budweiser's Teaser Campaign (#BestBuds)
If there's one thing this beer company is known for, it's those irresistible little puppies that have become the trademark of a good Budweiser Super Bowl commercial… Last year, Bud has everyone out looking for their best friend. Now, we're busy wondering if they can make a good ad without the puppy.
3. Pepsi & Papa John's Perfect Fast Food Delivery
Cuz there's nothing like being rewarded with a box of pizza and a Pepsi. Here's one Vine from Super Bowl XLIX that took "fast food delivery" to a whole new level. Starring Jerod Mayo from the New England Patriots, Pepsi rewarded the all-star player with a Papa John's pizza and a Pepsi bottle simply for showing some Game Day spirit. We'll most likely catch him pounding more than just tables on Super Bowl Sunday…
4. Dunkin Donuts' Revolutionary Coffee Vines
Who needs human players when you can put a bet on some coffee cups vying for a field goal? During Super Bowl 2013, Dunkin Donuts took to the field with a series of Vines reenacting previous Super Bowl games. The Dunkin' ad campaign broke new ground (as in coffee grounds…) when they created the first ever TV ad using Vine.
5. The Elevator Battle
Super Bowl season means that pressure's on for fans, the big brand names and of course, for the teams who are in it to win. In honor of Super Bowl 2014, ESPN made this unforgettable Vine.
6. Marshawn Lynch And His Skittle Addiction
He may be the running back for the Seattle Seahawks, but that doesn't mean the dude can't start off a game downing some rainbow colored Skittles! Where do you think he gets all that energy from? Here's his grand Skittle-munching moment spotted during Super Bowl XLIX.
---
The 4 Best Super Bowl Memes
1. The Bill Belichick Photo Bomb
Didn't you know? Patriots coach Bill Belichick became quite a figure in the political world back in 2012, even before his most recent Super Bowl win….unless he's creeping up on Obama to invite him to cheer for the Pats in the Big Game. Or maybe he's got a secret he wants to disclose with Mr. President. Either way, he's freaking the guy out with his glare.
2. Will Ferrell and John C Reilly—The Halftime Show
We all know him as the Elf, and we recognize him easily from the all-time classic movie, Anchorman, but how awesome would it be to see Will Ferrell take the stage during the halftime show, together with John C Reilly? This duo would certainly make the crowd roar…
3. The Real Star of the XLIX Halftime Show
The famous left shark and his lack of rhythm was the unexpected star during last year's Super Bowl. The Internet was quick to respond with memes like this. 
4. Poor Tom Brady 
Tom Brady wasn't crying for long after last year's Super Bowl season. This meme summed up the Deflategate controversy. Or did it?
Free #TomBrady 😂 pic.twitter.com/l2EE47cVd8

— Mystère (@Sirehi) May 12, 2015
---
The 5 Best Super Bowl GIFs
1. Jeron Johnson – The Penalty Shot
Remember all that buzz around Seattle Seahawk's Jeron Johnson and his penalty shot against Patriots' punter Ryan Allen in Super Bowl XLVII? Yeah….that was the one that ended with an ugly brawl.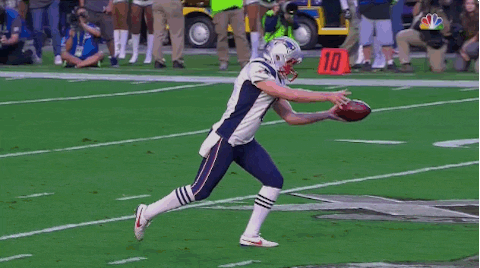 2. Snow Game
That time when Geno Smith couldn't handle the snow…
3. Jazzing it Up in Super Bowl IX
Back in 1975, the Grambling State University Band showed up to pay tribute to Duke Ellington. Who better to be the leader of the band than Ellington's son, Mercer. Man, those halftime show's of yore filled with good ol' jazz sure were a far cry from today's made-for-TV spectacles. As for the game on the field, who played that day? The Stellers beat the Vikings, 16-6 at Tulane Stadium in New Orleans. 
4. The Boss's Stage Slide 
If only we knew how to stage slide like that.. Remember this hot move from the 2009 Super Bowl halftime show? Springsteen definitely deserves some credit for his skills. With the buzz we had by halftime, we would probably have ended up falling off the stage.
5. Bruno Mars — Too Good
He's just too good for his own good, but he'd never give off that impression…Of course, I'd be proud too if I were about to star in my second Super Bowl half time show!
---
Great job, Internet, for getting fans pumped for the Super Bowl with these hilarious Super Bowl Vines, Memes and GIFs. (At least we thought they were LOL worthy…) Though even with Springsteen's award winning stage slide, Katy's memorable roar and the NFL players working up a sweat on the field, let's be real – there's nothing more entertaining in the Super Bowl than the Super Bowl commercials.
With big brand names like Coca-Cola and Doritos joining lesser known companies like Wix.com, the commercials are really the best part of the Super Bowl fiasco. (You just might not want to tell your friends what you're really thinking…)
Along with the customary hype around the Super Bowl commercials, kickoffs, and teams, the Internet has managed to get fans into Game Day spirit. But it looks like there's one little guy in town that is a bit of a SB Debbie Downer–
Meanwhile, stay tuned for the latest updates about Super Bowl 50!